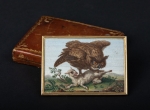 The coup de coeur of Guy van Wassenhove at BRAFA 2019

The international BRAFA Art Fair 2019 in Brussels welcomes art collectors from all over Europe at Tour & Taxis in Brussels, between 26 January and 3 February, 2019. Guy van Wassenhove, Curator of the Fonds Baillet Latour, found his 'coup de coeur' at BRAFA with Dario Ghio. The gallery displays an exquisite micromosaic of an owl attacking a lamb, of circa 1810, made of the smallest glass pieces.
The piece was created by Antonio Aguatti (before 1800-1846), one of the most important micromosaic masters from the Vatican City workshops.